ChIP抗体验证服务
使用小规模ChIP-Seq验证抗体是否适用
Our Epigenetic Services team specializes in performing ChIP-Seq. Because of the need for high-quality antibodies in order to achieve success in this technique, we validate all antibodies internally before using them in genome-wide ChIP assays. To date, we have ChIP-qualified antibodies against more than 250 different targets. If your target of interest is on our list, we can start your project immediately. If it is not, or if you want to ChIP validate your own internally developed antibody, our Antibody Validation Service can give you an answer in as little as three weeks. Please contact us to find out how to initiate an antibody validation project.
To learn more, please give us a call or send us an Epigenetic Services Information Request. You can also download Active Motif's Epigenetic Services Profile.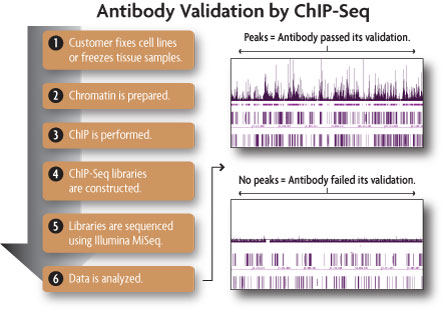 Active Motif's ChIP antibody validation process.
Active Motif makes ChIP antibody validation simple and fast by offering a ChIP antibody validation service. Validation is performed using small-scale ChIP-Seq. Active Motif performs all steps of the experiment including data analysis, and the performance of the antibody is assessed based on the identification of ChIP-Seq peaks.