CUT&Tag-IT™ Assay Kit 概述
CUT&Tag是一种新的实验方法,用于研究组蛋白修饰和一些转录因子的基因组定位,从而揭示蛋白与DNA之间的相互作用或者鉴定感兴趣蛋白的DNA结合位点。
MNase-Seq和ATAC-Seq是把开放染色质作为研究对象,因此相当依赖于染色质的开放性。不同于这两个方法,CUT&Tag利用基于抗体的酶靶向特定的组蛋白修饰或蛋白,以揭示特定于这些感兴趣位点或蛋白的染色质结合信息。
CUT&Tag基于与ChIP-Seq相同的原理,但是对实验方法进行了一些相应的修改。在CUT&Tag中,新鲜的(未冷冻的)未固定的细胞与刀豆蛋白A磁珠结合,在细胞的原生状态下(native state)进行抗体孵育,不需要ChIP-Seq实验中固定染色质,超声处理和免疫沉淀的步骤。抗体结合后,染色质被消化,NGS建库通过使用预先接好adapter的proteinA - Tn5 (pA-Tn5)转座酶进行标记,一步完成。
与ChIP-Seq相比,CUT&Tag的起始材料更少,所需要的时间更短,产生结果更快,质量更高,而且能够以更低的测序深度进行稳健的分析,从而节省时间和金钱。
了解更多关于CUT&Tag的信息与原理
CUT&Tag-IT™ Assay Kit优势:
单次实验最少可使用5,000个细胞
提供完整的试剂和优化方案
适用于组蛋白标记和一些转录因子
建库步骤简单成本降低
背景低因此可以降低测序深度
没有甲醛交联造成的假阳性结果
How the CUT&Tag-IT™ Assay Works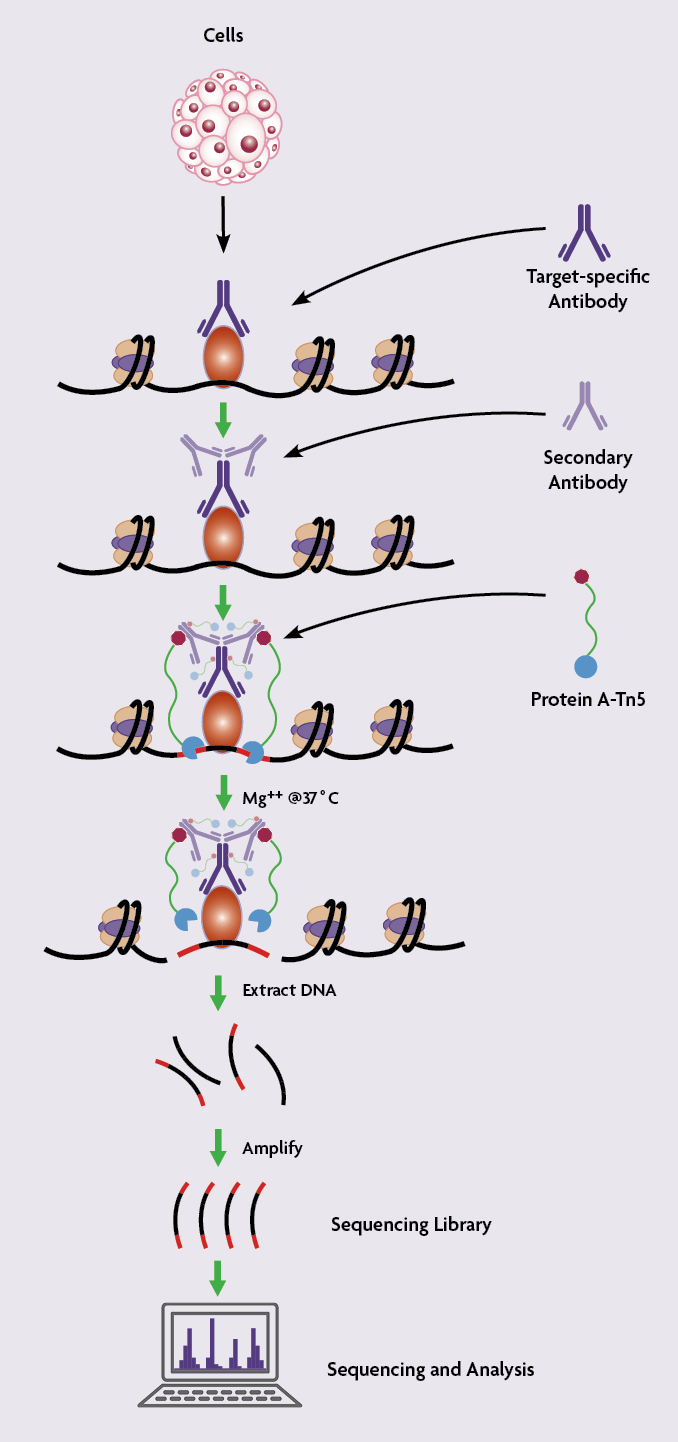 CUT&Tag vs. CUT&RUN vs. ChIP-Seq
| | CUT&Tag | CUT&RUN | ChIP-Seq |
| --- | --- | --- | --- |
| 是否需要固定 | 不需要 | 不需要 | 需要 |
| 染色质片段化方法 | 基于Tn5的片段化 | MNase消化 | 超声打断 |
| 所需细胞数量 | 0.5-50万 | 50万 | 100-1000万 |
| 所需测序深度 * | 2M reads ** | 8M reads | 20-50M reads |
| 是否整合建库过程 | 是,通过片段化加adapter | 否,需要另外的建库步骤 | 否,需要另外的建库步骤 |
| 适用的靶点 | 主要适用于组蛋白修饰,少许转录因子与辅因子 | 广泛适用于组蛋白修饰,转录因子与辅因子 | 广泛适用于组蛋白修饰,转录因子与辅因子 |
| 所需时间 | 1-2天 | 1-2天 | 2-3天 |
* Kaya-Okur et al. Nature Communications (2019) 10:1930
** 对于丰度较低的靶点,建议测序深度8-10M reads

CUT&Tag-IT™ Assay Kit组分
The CUT&Tag-IT™ 在两种温度条件下进行运输,由干冰运输的盒子请存放于-20°C,室温运输的盒子请存放于4°C并且保证不要冷冻。请在第一次使用后将试剂盒各组分按照说明书储存条件储存。所有试剂在存放得当的条件下自收到日期开始计算保证6个月内有效。
试剂包含:
5% Digitonin, store at -20°C
Concanavalin A Beads, store at 4°C
CUT&Tag-IT™ Assembled pA-Tn5 Transposomes, store at -20°C
Tagmentation Buffer, store at -20°C
1X Binding Buffer, store at 4°C
1X Wash buffer, store at 4°C
Dig-Wash Buffer, store at 4°C
Antibody Buffer, store at 4°C
Dig-300 Buffer, store at 4°C
Guinea Pig Anti-Rabbit Antibody, store at -20°C
Protease Inhibitor Cocktail, store at -20°C
0.5M EDTA, store at RT
10% SDS, store at RT
10 µg/µL Proteinase K, store at -20°C
DNA Purification Columns, store at RT
DNA Purification Binding Buffer, store at RT
DNA Purification Wash Buffer, store at RT
DNA Purification Elution Buffer, store at RT
3M Sodium Acetate, store at RT
10 mM DNTPs, store at -20°C
5X Q5 Buffer, store at -20°C
Q5 High Fidelity DNA Polymerase (2U/µL), store at -20°C
i5 Indexed Primer 1, store at -20°C
i5 Indexed Primer 2, store at -20°C
i5 Indexed Primer 3, store at -20°C
i5 Indexed Primer 4, store at -20°C
i7 Indexed Primer 1, store at -20°C
i7 Indexed Primer 2, store at -20°C
i7 Indexed Primer 3, store at -20°C
i7 Indexed Primer 4, store at -20°C
SPRI Beads, store at 4°C
搭配CUT&Tag验证抗体一起使用!
Active Motif专注于高质量的组蛋白,组蛋白修饰,基因组蛋白及其他因子抗体的生产,包括不断更新的经过我们实验验证的适用于CUT&Tag的抗体。查看我们的CUT&Tag验证抗体列表。
CUT&Tag-IT™ Assay Kit 数据展示
CUT&Tag-IT™ Assay Kit FAQs
CUT&Tag-IT™ Assay Kit是否包含进行CUT&Tag的所有试剂?
是的,这个试剂盒包含了所有需要的试剂,包括组装好的pA-Tn5转座体。唯一需要的其他材料是实验室的常用设备和试剂,这些设备和试剂在操作手册的其他需要的材料列表中可以找到。
CUT&Tag和ChIP-Seq相比有什么不同?
CUT&Tag与ChIP Seq的区别如下:
不需要固定
不需要超声或其他方式的样本片段化
更低的细胞量
整合的建库步骤
更低的背景
更低的测序深度
客户应该在什么时候选择CUT&Tag而不是ChIP-Seq?
对于那些细胞数量有限并且对了解组蛋白修饰的全基因组变化感兴趣的客户来说,CUT&Tag是一个很好的选择。对于想了解全基因组转录因子招募(内源性或标签)的客户,我们推荐ChIP-Seq。
CUT&Tag-IT™ Assay Kit适用什么类型的样本?
CUT&Tag-IT™ Assay Kit需要多少细胞量进行实验?
我们建议每个反应使用50000–100000个细胞。然而,我们也成功的从5000个细胞中获得了有用的数据。
如何准备进行CUT&Tag-IT™ Assay Kit的细胞?
按照CUT&Tag-IT™ Assay Kit手册的步骤准备细胞。对于贴壁细胞来说,关键是不要用胰蛋白酶分离细胞,因为它会破坏细胞与刀豆球蛋白A结合的表位。使用无酶分离法收集细胞,如使用细胞刮刀。
CUT&Tag-IT™ Assay Kit可以使用冷冻细胞吗?
使用CUT&Tag-IT™ Assay Kit建议使用什么对照?
我需要加入IgG对照吗?
在CUT&Tag实验中包括IgG对照的目的是确定pA-Tn5是否特异性的定位于抗体所在/富集的基因组区域。与ChIP Seq中使用的input对照不同,此阴性对照不用于分析。Active Motif R&D团队发现添加IgG对照不会增加任何有价值的信息,因为pA-Tn5已经被证明是特异的。但是,如果您希望添加IgG作为对照,这也是可以的。
CUT&Tag-IT™ Assay Kit是否有任何建议的质量控制步骤?
文库生成后,成功的文库制备质量应通过TapeStation 或 Bioanalyzer来评估。一个理想文库的片段大小大部分是低于500 bp的。我们建议使用KAPA文库定量试剂盒测定文库浓度。
CUT&Tag是否需要像ChIP-Seq一样的Input对照?
哪些抗体已经通过CUT&Tag-IT™ Assay Kit验证?
ChIP-Seq验证的抗体是否可以用于CUT&Tag-IT™ Assay Kit?
CUT&Tag-IT™ Assay Kit是否兼容单克隆和多克隆抗体?
CUT&Tag是否可以用于标签蛋白?
我们尚未使用CUT&Tag-IT™ Assay Kit验证标签蛋白。然而理论上是可以的。
Active Motif标准的ChIP-Seq Spike-In方法是否可以用于CUT&Tag-IT™ Assay Kit?
不可以。我们的Spike-In方法与CUT&Tag-IT™ Assay Kit不兼容。
我可以用CUT&Tag-IT™ Assay Kit同时处理 16个以上的样本吗?
CUT&Tag-IT试剂盒是否与测序前的qPCR分析兼容?
可以兼容,但结果不一定准确。由于Tn5插入测序接头的随机性,它使得设计引物来扩增一个特定的基因成为问题,因为引物结合位置的序列可能会被切断。因此,qPCR结果可能并不准确,因为引物结合位点可能被切断导致引物无法结合。
CUT&Tag-IT™ Assay Kit构建的文库是单index还是双index ?
CUT&Tag-IT™ Assay Kit构建的文库是否包含分子识别码?
CUT&Tag-IT™ Assay Kit构建文库应该采用单端还是双端测序?
CUT&Tag-IT™ Assay Kit推荐的测序读长是多少?
我们建议读长为2x38(PE38)。这比Henikoff论文中描述的读长要短。但是,我们没有看到对数据质量或mappping率的影响。如果你愿意,可以使用更高的读长。
使用CUT&Tag-IT™ Assay Kit之后怎么分析测序数据?
CUT&Tag的数据分析与ChIP-Seq是一样的。我们使用BWA算法和MACS2进行序列比对和信号峰鉴定。
CUT&Tag-IT™ Assay Kit 文件
订购CUT&Tag-IT™ Assay Kit
The original CUT&Tag-IT™ Assay Kit Cat. No. 53160 is designed to work with rabbit antibodies.
If you are working with mouse antibodies to the histone mark of interest, the CUT&Tag-IT™ Assay Kit, Anti-Mouse Cat. No. 53165 is specifically designed to work with mouse antibodies.
We recommend using a CUT&Tag-validated antibody for best results.
Looking for bulk pA-Tn5 Transposase? Get a quote.
Need to multiplex more than 16 samples? See our Nextera™-Compatible Multiplex Primers (96 plex).
您可能也对以下感兴趣:
US Pat. No. 10,689,643, EP Pat. No. 2999784 and related patents and applications
Permitted Use; Resale Prohibited
In the absence of an express written agreement to the contrary, all products are sold and services deliverables are provided by Active Motif for (a) internal in vitro research purposes only and may not be used for services or any other commercial purpose (b) the exclusive use of the original purchaser, and are not to be resold. You agree not to reverse engineer or otherwise attempt to discover the structure or composition of products or services deliverables unless we otherwise agree in writing.
| Name | Format | Cat No. | Price | |
| --- | --- | --- | --- | --- |
| CUT&Tag-IT™ Assay Kit, Anti-Rabbit | 16 rxns | 53160 | ¥14,300 | Buy |
| CUT&Tag-IT™ Assay Kit, Anti-Mouse | 16 rxns | 53165 | ¥14,300 | Buy |