RNA Methylation
make the most of your m6A RNA methylation assays
N6-methylated adenine (m6A) is prevalent in nearly all RNA types and in all organisms from bacteria to humans, and plays an important role in the efficiency of mRNA splicing, processing, translation efficiency, editing and mRNA stability. Active Motif manufactures high-quality, assay-validated Recombinant Proteins for m6A RNA Methylation research, as well as antibodies, Assay Kits and reagents for analysis of RNA modifications.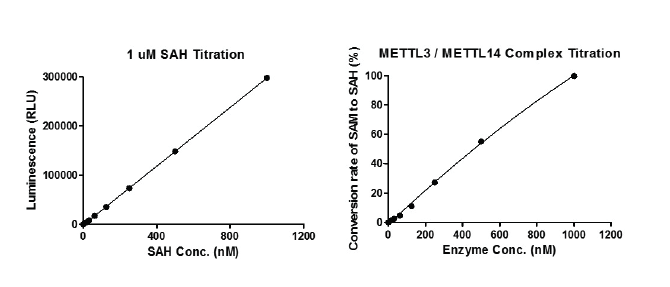 MTase-Glo assay for METTL3 / METTL14 Complex m6A Methyltransferase Activity
1 μM Substrate RNA (UAGAGGACCAGUCGGACCAGUCGGACCGAU) and 1 μM SAM was incubated with different concentrations of METTL3 / METTL14 Complex (Cat. No. 31570) in an 8 μl reaction system containing 50 mM Tris-HCl pH 8.6, 0.02% Triton X-100, 2 mM MgCl2, and 1 mM TCEP at room temperature for 1 hour (0.2 U/μl RRI was added in this system). 5xMTase-Glo Reagent was added to the products and incubated for 30 min. Then MTase-Glo Detection was added and luminescence were read after another 30 min incubation. An SAH standard curve (0-1 μM) was performed following the same protocol.
Name
Expressed In
Format
Cat No.
Price
Recombinant ALKBH2 protein
E. coli
100 µg
81129
¥3,425.50
Buy Now
1 mg
81829
¥21,762
Buy Now
Recombinant ALKBH3 protein
E. coli
100 µg
81130
¥3,425.50
Buy Now
1 mg
81830
¥21,762
Buy Now
Recombinant ALKBH4 protein
E. coli
100 µg
81131
¥3,425.50
Buy Now
1 mg
81831
¥21,762
Buy Now
Recombinant ALKBH5 protein
Baculovirus
20 µg
31589
¥3,465.80
Buy Now
Recombinant ALKBH6 protein
E. coli
50 µg
81191
¥3,425.50
Buy Now
1 mg
81891
¥21,762
Buy Now
Recombinant ALKBH7 protein
E. coli
100 µg
81132
¥3,425.50
Buy Now
1 mg
81832
¥21,762
Buy Now
Recombinant ALKBH8 protein
E. coli
100 µg
81197
¥3,425.50
Buy Now
1 mg
81797
¥21,762
Buy Now
Recombinant FTO protein
Baculovirus
20 µg
31572
¥3,425.50
Buy Now
1 mg
31972
¥29,016
Buy Now
Recombinant FTSJ3 protein
Baculovirus
20 µg
81189
¥3,304.60
Buy Now
1 mg
81889
¥28,210
Buy Now
Recombinant METTL1 protein
Baculovirus
20 µg
81022
¥3,344.90
Buy Now
Recombinant METTL1 protein, GST-Tag
E. coli
100 µg
81059
¥3,344.90
Buy Now
1 mg
81759
¥21,762
Buy Now
Recombinant METTL1 protein, His-Tag
E. coli
100 µg
81058
¥3,344.90
Buy Now
1 mg
81758
¥21,762
Buy Now
Recombinant METTL2A protein
Baculovirus
20 µg
81027
¥3,344.90
Buy Now
Recombinant METTL3 protein
Baculovirus
20 µg
31567
¥3,627
Buy Now
Recombinant METTL3 / METTL14 complex
Baculovirus
20 µg
31570
¥3,828.50
Buy Now
Recombinant METTL4 protein
Baculovirus
10 µg
81177
¥3,344.90
Buy Now
1 mg
81877
¥47,554
Buy Now
Recombinant METTL6 protein
Baculovirus
20 µg
81023
¥3,344.90
Buy Now
Recombinant METTL6 protein, GST-Tag
E. coli
100 µg
81061
¥3,264.30
Buy Now
1 mg
81761
¥21,762
Buy Now
Recombinant METTL6 protein, His-Tag
E. coli
100 µg
81060
¥3,344.90
Buy Now
1 mg
81760
¥21,762
Buy Now
Recombinant METTL7A protein
Baculovirus
10 µg
81178
¥3,344.90
Buy Now
1 mg
81878
¥47,554
Buy Now
Recombinant METTL8 protein
Baculovirus
20 µg
81028
¥3,344.90
Buy Now
Recombinant METTL8 protein, GST-Tag
E. coli
50 µg
81106
¥3,264.30
Buy Now
1 mg
81806
¥21,762
Buy Now
Recombinant METTL11A (NTMT1) protein
Baculovirus
20 µg
81029
¥3,264.30
Buy Now
1 mg
81729
¥29,016
Buy Now
Recombinant METTL11A (NTMT1) protein, His-Tag
E. coli
100 µg
81062
¥3,344.90
Buy Now
1 mg
81762
¥21,762
Buy Now
Recombinant METTL11B (NTM1B) protein
E. coli
50 µg
81121
¥3,264.30
Buy Now
1 mg
81821
¥21,762
Buy Now
Recombinant METTL13 protein
Baculovirus
20 µg
81024
¥3,344.90
Buy Now
Recombinant METTL14 protein
Baculovirus
20 µg
31568
¥3,344.90
Buy Now
Recombinant METTL15 protein
Baculovirus
20 µg
81084
¥3,264.30
Buy Now
1 mg
81784
¥29,016
Buy Now
Recombinant METTL16 protein
Baculovirus
20 µg
81085
¥3,264.30
Buy Now
1 mg
81785
¥29,016
Buy Now
Recombinant METTL17 protein
Baculovirus
10 µg
81105
¥3,344.90
Buy Now
1 mg
81805
¥47,554
Buy Now
Recombinant METTL18 protein
Baculovirus
20 µg
81030
¥3,344.90
Buy Now
Recombinant METTL19 (TRMT44) protein
Baculovirus
20 µg
81088
¥3,264.30
Buy Now
1 mg
81788
¥29,016
Buy Now
Recombinant METTL21A protein
E. coli
100 µg
81122
¥3,344.90
Buy Now
1 mg
81822
¥21,762
Buy Now
Recombinant METTL21C protein
E. coli
50 µg
81123
¥3,264.30
Buy Now
1 mg
81823
¥21,762
Buy Now
Recombinant METTL22 protein
Baculovirus
20 µg
81092
¥3,344.90
Buy Now
1 mg
81892
¥29,016
Buy Now
Recombinant METTL25 protein
Baculovirus
20 µg
81089
¥3,264.30
Buy Now
1 mg
81789
¥29,016
Buy Now
Recombinant METTL26 (JFP2) protein
E. coli
100 µg
81063
¥3,344.90
Buy Now
1 mg
81763
¥21,762
Buy Now
Recombinant NSUN1 protein
Baculovirus
20 µg
81170
¥3,304.60
Buy Now
1 mg
81870
¥28,210
Buy Now
Recombinant NSUN2 protein
Baculovirus
20 µg
81171
¥3,304.60
Buy Now
1 mg
81871
¥28,210
Buy Now
Recombinant NSUN3 protein
Baculovirus
20 µg
81183
¥3,304.60
Buy Now
Recombinant NSUN4 (SHTAP) protein
Baculovirus
20 µg
81172
¥3,304.60
Buy Now
1 mg
81872
¥28,210
Buy Now
Recombinant NSUN5 protein
Baculovirus
20 µg
81173
¥3,304.60
Buy Now
1 mg
81873
¥28,210
Buy Now
Recombinant NSUN6 protein
Baculovirus
20 µg
81174
¥3,304.60
Buy Now
1 mg
81874
¥28,210
Buy Now
Recombinant NSUN7 protein
Baculovirus
10 µg
81175
¥3,304.60
Buy Now
Recombinant WTAP protein
Baculovirus
20 µg
31571
¥3,385.20
Buy Now
Recombinant YTHDC2 (1279-1429) protein
E. coli
100 µg
81101
¥3,344.90
Buy Now
1 mg
81801
¥20,956
Buy Now
Recombinant YTHDC2 protein
Baculovirus
20 µg
81198
¥3,304.60
Buy Now
Recombinant YTHDF1 protein
Baculovirus
20 µg
31608
¥3,304.60
Buy Now
Recombinant YTHDF1 (380-533) protein
E. coli
100 µg
81102
¥3,344.90
Buy Now
1 mg
81802
¥20,956
Buy Now
Recombinant YTHDF2 protein
Baculovirus
20 µg
31573
¥3,344.90
Buy Now
Recombinant YTHDF2 (401-554) protein
E. coli
100 µg
81103
¥3,344.90
Buy Now
1 mg
81803
¥20,956
Buy Now
Recombinant YTHDF3 (407-560) protein
E. coli
100 µg
81104
¥3,344.90
Buy Now
1 mg
81804
¥20,956
Buy Now