New High-Throughput Methods for the Epigenomic Characterization of Human Disease States
Research studies using clinical samples have unique challenges. High-throughput methods are often required, and the experimental methods used need to be compatible with small sample amounts. Historically, methods for epigenomic analyses have been limiting for clinical researchers, but new technologies developed by the team of scientists at Active Motif is changing that.

The new methods described in this poster, such as the PIXUL 96-well sonicator, transposase-assisted multiplex ChIP (TAM-ChIP), high-throughput ChIP, low cell number ChIP, and ChIP from FFPE tissues, are making it easier to characterize the epigenomic profiles associated with human diseases.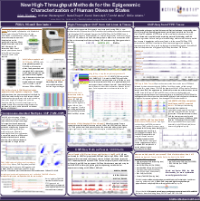 Please note: The submission form below may not display on all browsers. For best results, we recommend using Chrome or Safari as your web browser. If you are having problems accessing the form, please contact technical support.