<< Back to Targets & Applications Home Page
ChIP Kit Selection Guide:
Active Motif offers many different ChIP kits and products, so we have put together the following guides to help you find the right product for your research. Clicking on each image will open a larger version.
What is your source material?
Cultured Cells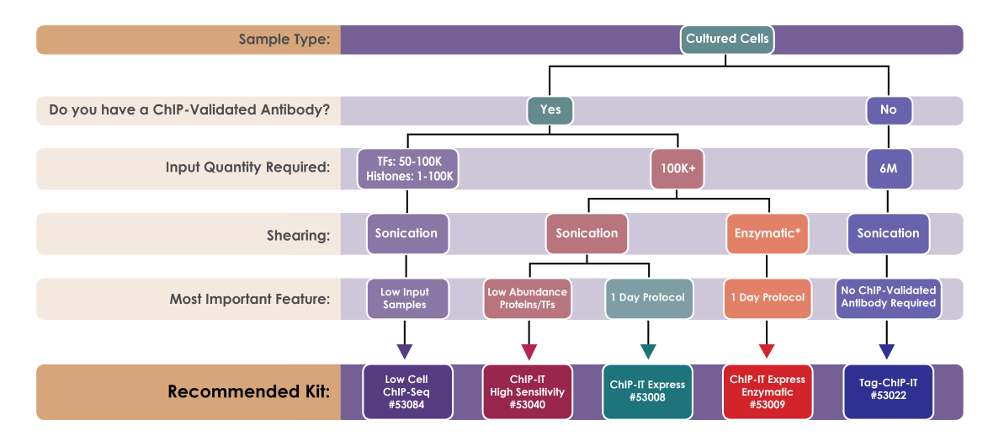 Frozen/FFPE Tissue or PBMCs

Note: Enzymatic shearing is inherently biased. Sonication is the preferred shearing method, if possible.
Featured Products:
Low Cell ChIP-Seq
Limited samples arising from cell sorting, sample segmentation for multi-omics processing, or simply small sample size, can be difficult to analyze with ChIP-Seq. The Low Cell ChIP-Seq Kit has optimized reagents for ChIP enrichment and library preparation of small samples, maximizing the amount of sample you retain at every step.
ChIP-IT® High Sensitivity
When enriching for low abundance transcription factors, the background to signal ratio can make or break your data.The ChIP-IT High Sensitivity Kit contains optimized buffers and protein G agarose beads to maximize your signal and minimize the noise.
ChIP-IT® Express and Express Enzymatic
Multi-day ChIP protocols can be complicated. ChIP-IT Express Kits utilize protein G-coated magnetic beads to perform ChIP in just one day, and can be used with a sonicator or enzymatic shearing approach.
Tag-ChIP-IT®
ChIP-validated antibodies don't always exist for your target protein. Our Tag-ChIP-IT system allows you to create an expression construct containing the protein of interest in-frame with a C-terminal AM-tag that is specifically designed to work in ChIP.
ChIP-IT® FFPE II
Formalin-fixed paraffin-embedded (FFPE) samples are challenging due to their limited size, lack of consistency in fixation methods, and degradation. The ChIP-IT FFPE II Kit is our second generation kit, combined with chromatin prep kits for both readily extractable and difficult-to-extract samples, specifically designed to give you the best data from these difficult FFPE samples.
ChIP-IT® PBMC
Peripheral blood mononuclear cells (PBMCs) are notoriously resistant to lysis, making it difficult to extract chromatin for ChIP studies. Optimized buffers contained in the ChIP-IT PBMC Kit make chromatin extraction and high quality ChIP data a breeze.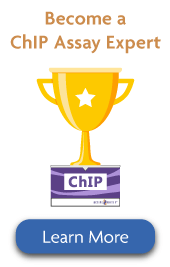 ChIP Kits
Contact Us
Still can't find what you're looking for? Send us an email and we'll get back to you as soon as possible.