抗体标记
for site-specific conjugation to AbFlex® rAbs
Sortag-IT™ Labeling Kits are designed for site-specific labeling of Active Motif's highly specific AbFlex® recombinant antibodies (rAb) via the Sortase tag recognition sequence (LPXTG) that is incorporated into the heavy chains of each AbFlex antibody. Directly conjugate fluorophores, enzymes (HRP, AP), biotin, peptides, DNA, carbohydrates or other labels to the terminal end of the heavy chain to ensure the antigen binding site remains available for target recognition.

Sortag-IT™ Labeling Kit and Sortase A5 Labeling Scheme
Sortase A belongs to a family of transpeptidases found in Gram-positive bacteria that catalyze the attachment of poly-Glycine (G)n labels to the sortase recognition sequence. The Sortag-IT Labeling Kits use Active Motif's Sortase A5 pentamutant from Staphylococcus aureus that is significantly more active than wild-type Sortase to provide a faster, more efficient labeling reaction. Simply add your AbFlex antibody with the poly-Glycine label, add Sortase A5 and incubate for approximately 1 hour. Purification columns are included to remove excess label and Stop Solution is provided to inactivate the Sortase A5 enzyme. Labeled antibodies are ready for downstream analysis or can be stored at 4°C for up to 3 months.
---
Active Motif also offers products compatible with the Sortag-IT Labeling Kits:
For additional product details, please select the Documents or Description tabs below. The Sortase A5 pentamutant is covered by US patent number 9,267,127.
Sortag-IT™ Labeling Kit Highlights
Site-specific antibody conjugation ensures the antigen binding site is always available post-labeling; No need to re-validate the antibody
Directed labeling eliminates the need for secondary antibodies which saves valuable time and avoids anti-species restrictions in secondary antibody selection
Easily attach any poly-glycine label to the Sortase recognition motif (LPXTG)
Sortase A5 pentamutant is more active and efficient than wild-type Sortase; Label the antibody in about 1 hour
Includes purification reagents
How Does it Work?

The Sortag-IT™ Labeling Kit for AbFlex® recombinant antibodies
The Sortag-IT Labeling Kits should be used in combination with Active Motif's AbFlex recombinant antibodies. Each AbFlex antibody contains a Sortase tag sequence on the terminal end of each heavy chain for site-specific addition of up to two maximum labels per antibody molecule (two is the theoretical maximum number of labels that can be added to each antibody, however, steric hindrance may prohibit the addition of 2 labels depending on the label used).
First, combine the Ablex recombinant antibody with the desired poly-Glycine label in the presence of Sortase A5 enzyme and Ca2+-based reaction buffer. Next, Sortase A5 will bring the poly-Glycine label to the Sortase recognition motif (LPXTG) on the antibody. Then, Sortase A5 will cleave the bond between the Threonine and the Glycine in the LPXTG sequence creating an acyl enzyme intermediate which allows for the attachment of the poly-Glycine label. Finally, the labeled AbFlex antibody is purified away from the free label and the Sortase A5 enzyme is inactivated with Stop Solution.
Validation
Each Sortag-IT Labeling Kit is validated in a functional assay to confirm the presence of the label. Data is provided on the data sheet for each specific kit. Below is an example of the Sortag-IT™ HRP Labeling Kit used to directly conjugate 100 µg of Active Motif's AbFlex® Histone H3K9ac recombinant antibody with HRP.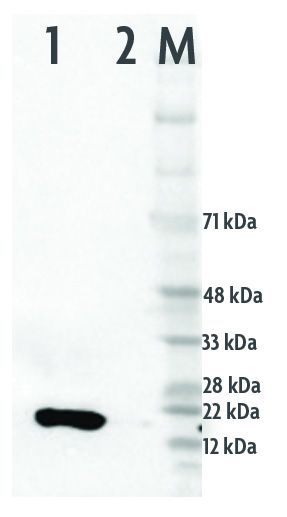 Figure 1: Western blot of Sortag-IT labeled Histone H3K9ac-HRP antibody.
Contents & Storage
Each Sortag-IT Labeling Kit provides sufficient material to label 3 x 100 µg AbFlex® recombinant antibody with a yield >50%.
3 units Sortase A5 enzyme; Store at -80°C
1 ml Reaction Buffer AM3: Store at 4°C
(Gly)5-Label; Store at varies
10 µl Stop Solution AM3; Store at RT
3 ea Purification Columns; Store at RT